A few weeks ago, while hiking a trail in the Keweenaw Peninsula of Upper Michigan, I noticed how effortlessly our group traversed the winding paths over rocks, under broken branches, through groves of trees, and along the water's edge. What would have been a challenging route a hundred years ago, today required little more than the ability to walk upright. As the trails twisted left or right, signs along the way pointed toward destinations of our choosing: South Shore, North Trail, Parking Lot
I noticed as we trudged through wooded areas the topography had dramatic variances. Even the stones we walked over differed in size from tiny pebbles to potato sized rocks. Gazing left and right we saw patches of ground that appeared to be other trails but proved impassable due to overgrown brush and fallen logs.
Such a striking difference between over-worn paths and over-grown paths. What is it that caused one path to emerge as the acceptable route for hiking while the other diverged into obscurity? The official trail could have been any of those passageways hidden under thick, overgrown foliage. The key to the worn path, the official path, the normal path is the frequency of choice and the frequency of actions. Repeated choices and repeated actions.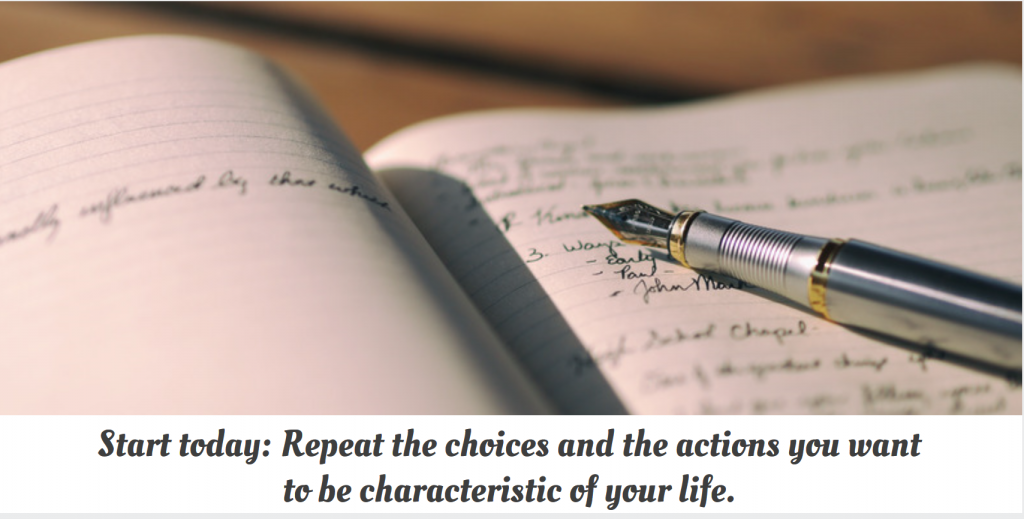 Just as rugged terrain in the Keweenaw became passable trails through repeated travel and trampling by multiple feet for multiple years, our repeated choices and actions become ingrained habits of our existence. Habits are like our worn path.
To break a habit, get off that path.
To form a new habit, get on a new path.
Both are difficult. The reason is because habits form neural pathways in our brains. While it is not impossible to break a habit or form a new one, expect it to take effort, like forging a new trail through overgrown brush and fallen trees. Expect some rocky moments and a few boulders. What do you want more? The familiar habit that drags you down or the new habit that raises you up?
I thought so.
Philippians 4:8-9 says: Whatever is true, whatever is noble, whatever is right, whatever is pure, whatever is lovely, whatever is admirable—if anything is excellent or praiseworthy—think about such things. Put it into practice. And the God of peace will be with you.
What better habit to form than to pursue peace through right thinking? Whatever is true, whatever is right … start there.
Thoughts become Actions
Actions become Habits
Habits become Lifestyle
1Peter1: 6-8 says: Make every effort to add to your faith goodness; and to goodness, knowledge; 6 and to knowledge, self-control; and to self-control, perseverance; and to perseverance, godliness; and to godliness, mutual affection; and to mutual affection, love. For if you possess these qualities in increasing measure, they will keep you from being ineffective and unproductive in your knowledge of our Lord Jesus Christ.          
This story is the result of writing for 5 minutes about whatever comes to my mind as I thought about the prompt, REPEAT, for 5-minute Friday on November 3, 2018.