Never before have I read a nonfiction book that held my interest like reading my best friend's story while learning so much about the military life of a fighter pilot. I was captivated by the second paragraph when Jason Ladd wrote, "For centuries, the great thinkers have labored to understand man's purpose." In that instant, I wanted to see how this young man, father to six, husband to Karry, and US Marine found his answer to that question. By the final chapter of the book I was able to peer into his life and get know the real Jason B. Ladd, a spiritual seeker, just like me, but living his unique purpose as a Marine dedicated to protecting America in times of crisis.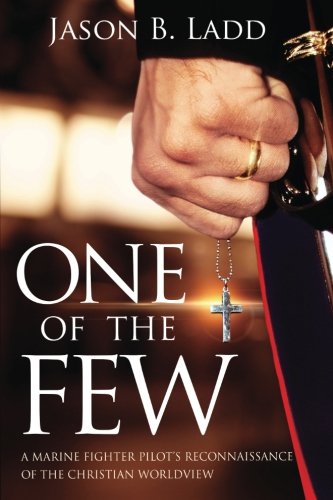 Before I knew about this book, I was a follower of Jason B. Ladd's blog. I knew of his strong foundation of faith and of his Christian testimony. As I began to read this book, One of the Few: A Marine Fighter Pilot's Reconnaissance of the Christian Worldview, I was repeatedly surprised by his apathetic view of God and Jesus Christ. His question early in the book was, "How could I operate without God when so many others needed him so desperately?" Jason's answers weren't immediate and that's what I found so enticing about this book. I know the uncertainty I dealt with in my search for Christ in my twenties. As his story unfolds, Jason Ladd offers views and analogies between his life as a civilian and his life as a Marine. He relates what he learned through his experiences in training for and becoming a Marine fighter pilot to his search for God and discipleship as a growing Christian.
I turned page after page absorbing the stories told by Jason about his training maneuvers in flight and on the ground, I now know that pilots can land an aircraft on the bed of a ship, and I got a glimpse of how unnerving that incident would be. As Jason says about his training for flight and training for living his life as a believer, "There is no substitute for experience and experience requires repetition. Study tactics, fly by the book and repeat. Read, fly, repeat. Read the Bible, live by the Book, and repeat. Read, live, repeat. Failure to do either can give the enemy the upper hand."
As I read I understood more and more about the strategy of living the life according to God's standards by learning from the author of this book, the strategies for living as a soldier. The difference between enemies of the soldier in the Marines and the enemy of the Christian is that the soldier's enemy is physical, but the Christians' enemy is spiritual. "War is the byproduct of a broken world. It's impossible to prepare for battle if you are ignorant of the war." Through his book, Jason implores us to learn all we can about the real war going on between the spiritual enemy, Satan, so we can defend ourselves against spiritual warfare. "Living a holy life in a broken world is difficult. The Bible tells you how to live, but you're going to forget a lot of what it says. You must continually stay in the Word. Like executing fighter tactics, living a holy life is a perishable skill." Read, live, repeat.
Through the narrative of his life, Jason Ladd shows us how to live a morally vibrant and spiritually fed life and stand firm in our faith even when the world is falling into calamity and moral chaos. "Emerging technologies may change the character of war, but the nature of war remains constant: ugly, violent, and necessary as long as evil remains a reality of the human heart." I recommend this book to anyone searching for life solidly grounded on faith.